Discover more from Aidful News
weekly ◆ AI news ◆ privacy-friendly AI ◆ PKM (Personal Knowledge Management) and AI
🤝 AidfulAI Newsletter #4: AI is disrupting note-organization
Dear curious minds,
Welcome to the newest issue of the newsletter for those interested in AI and PKM.
Major AI News
💬🚀 ChatGPT Unleashes Web Browsing Plugin, 80+ Additional Plugins, Increased Token Limits and iOS app
Exciting updates are coming to ChatGPT! Two of the three known plugins, 'Web Browsing' and 'Plugins', are moving from Alpha to Beta phase. This means they'll soon be available to all Plus subscribers. The 'Web Browsing' plugin enables ChatGPT to answer questions with information from a web-search and surpasses the limitation to only use data up to September 2021. The 'Plugins' plugin (weird name) marks the 'app store' moment for ChatGPT. Already, over 80 plugins from third-party companies are now accessible, transforming ChatGPT into a more customizable and interactive platform. Among these, the Zapier and Wolfram Alpha plugins stand out. However, to use these plugins, you'll need to enable 'Chat history', which is less privacy-friendly, but makes sense as OpenAI wants to collect feedback from the Beta phase.
In addition, there's been an increase in the context size for the GPT-3.5 model, which is the default one in ChatGPT. It can now with up to 8k tokens (~6000 words) use twice as much context from the chat history, a feature previously exclusive to the GPT-4 model, which only ChatGPT Plus subscribers can use. When it comes to a single input, the ChatGPT UI is the limiting factor and the GPT-3.5 model supports the input now up to 6478 tokens, while the GPT-4 model remains 3235 tokens as an upper bound. However, when using the models via the API, both GPT-3.5 and GPT-4 can now handle up to 8k tokens, combined for a single input and output.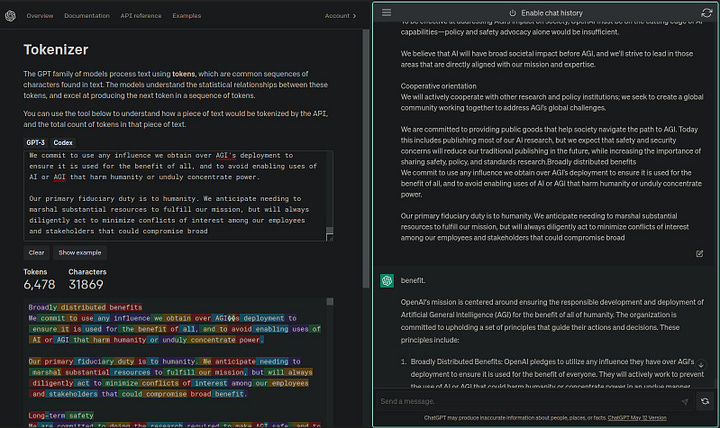 Furthermore, an official ChatGPT app is now available for iOS in the US, and an Android version is currently being developed.
All in all, these changes are taking ChatGPT to a new level of capability and versatility!
💬📖 Anthropic's Claude way ahead of OpenAI's GPT-4 in input size
The Google-backed company Anthropic updated their GPT-4 competitor Claude to support super long prompts of up to 100k tokens (~75k words). This size allows including a lot of content, and often, even a complete book in your prompt. 🤯
As comparison, the newest model from OpenAI, GPT-4, supports in its standard version 8k and in the largest version, with only a fraction of people having currently access, 32k token.
To test and use Claude, there are currently two options:
You can subscribe to Poe, the chatbot app from Quora, which supports besides the new Claude 100k model also GPT-4 and costs 22,99 € per month. Be aware that the usage of these models in Poe is not unlimited.

The second option is to hope for access by getting off the waitlist. Put yourself on the waitlist if you did not already do that after its launch mid of March.
Privacy-Friendly AI
🛑⚖️ Europe's Proposed AI Act: A Potential Roadblock for Open-Source Projects and AI Progress
There's trouble on the horizon for tech progress in Europe. After Italy blocked for a couple of weeks the use of ChatGPT because of privacy worries, now the European Union (EU) is considering a new rule that might slow down new advances in AI.
The draft of the AI act describes that any AI tool must pass a lot of cost-intensive checks before it can be used in the EU. If someone does not follow these rules, companies could be fined up to 20M € or 4% of their worldwide yearly revenue. The rules also say that people who create and share free AI tools, and even places where these tools are shared (like GitHub), could be in trouble if these tools are used in the EU without the described checks.
A group called LAION, along with other top research groups and developers, have written an open letter to the European Parliament. They're worried about the proposed rule described in the Draft AI Act and how it might hurt open-source projects in AI. The letter explains why open-source AI is important:
It helps make AI safer because people can check how it's working.

It lets smaller companies be competitive because they can build on existing models.

And it keeps data secure because companies and individuals don't have to share their information with big companies.
But the new EU rule might change all that. The letter says this "one size fits all" rule could slow down open-source projects, stop researchers from studying important models, and send AI money elsewhere. The letter ends by asking the European Parliament to think about what they've said and make laws that help free sharing of AI research. This can make AI safer, encourage new ideas and competition, and help Europe become stronger in the field of AI.
PKM and AI
🔍📝 Enhancing Note Organization with AI: Discover Hidden Connections and Uncover Gems
In this part, we delve into the second part of the CODE framework and are looking at how AI can help to organize your notes.
There are tools which enable auto-tagging, but so far, I did not test this, and I am uncertain if this really adds value.
As organizing your notes has the intention of finding the right note at the right time, there are other approaches how AI can help you with this. As of today, the most likely best application for discovering related notes is the note-taking app mem.ai. If you are subscribed to their AI named Mem X, the app will show in the sidebar notes that are similar to the one you're currently writing. This is really helpful because it can remind you of old ideas or things you've read about before. What's cool about this is that it can find related notes even if you aren't specifically looking for them.
On top, AI can make searching a specific passage in your notes much better. Until now, most apps would only look for exact words you typed in. But with the new generation of AI, apps can understand the meaning and context of words to find notes that are related to what you're searching for. This is called semantic search and realized in Mem X with a feature named "Smart Results". However, semantic search will in the near future be used in many more tools and is likely to become the new standard.
Bringing this even one step further is the ability to chat with your notes, like we are all now used to do about general knowledge with ChatGPT. A realization of this in a note-taking app is the Obsidian plugin Smart Connections. But keep in mind, that the current implementation sends all your notes to the OpenAI servers.
In short, these new features mean you don't have to keep your notes organized perfectly. As long as your notes are clear and detailed, AI can help you find what you're looking for.
Podcasts
🎙️🌟 Stephen Wolfram on WolframAlpha & ChatGPT's Secrets at Lex Fridman
During the podcast episode #376 of Lex Fridman, Stephen Wolfram discusses several topics, including WolframAlpha, the computational knowledge engine developed by his company. They also explore ChatGPT and how it can be utilized alongside WolframAlpha through the new ChatGPT plugin. The conversation covers various other subjects as well, such as the risks associated with AI, the future of education, and consciousness. Overall, it is an engaging discussion between Lex Fridman and the renowned computer scientist and physicist, Stephen Wolfram.
Thanks for reading! If you are not already subscribed, enter your mail address below to receive new issues and support my work.